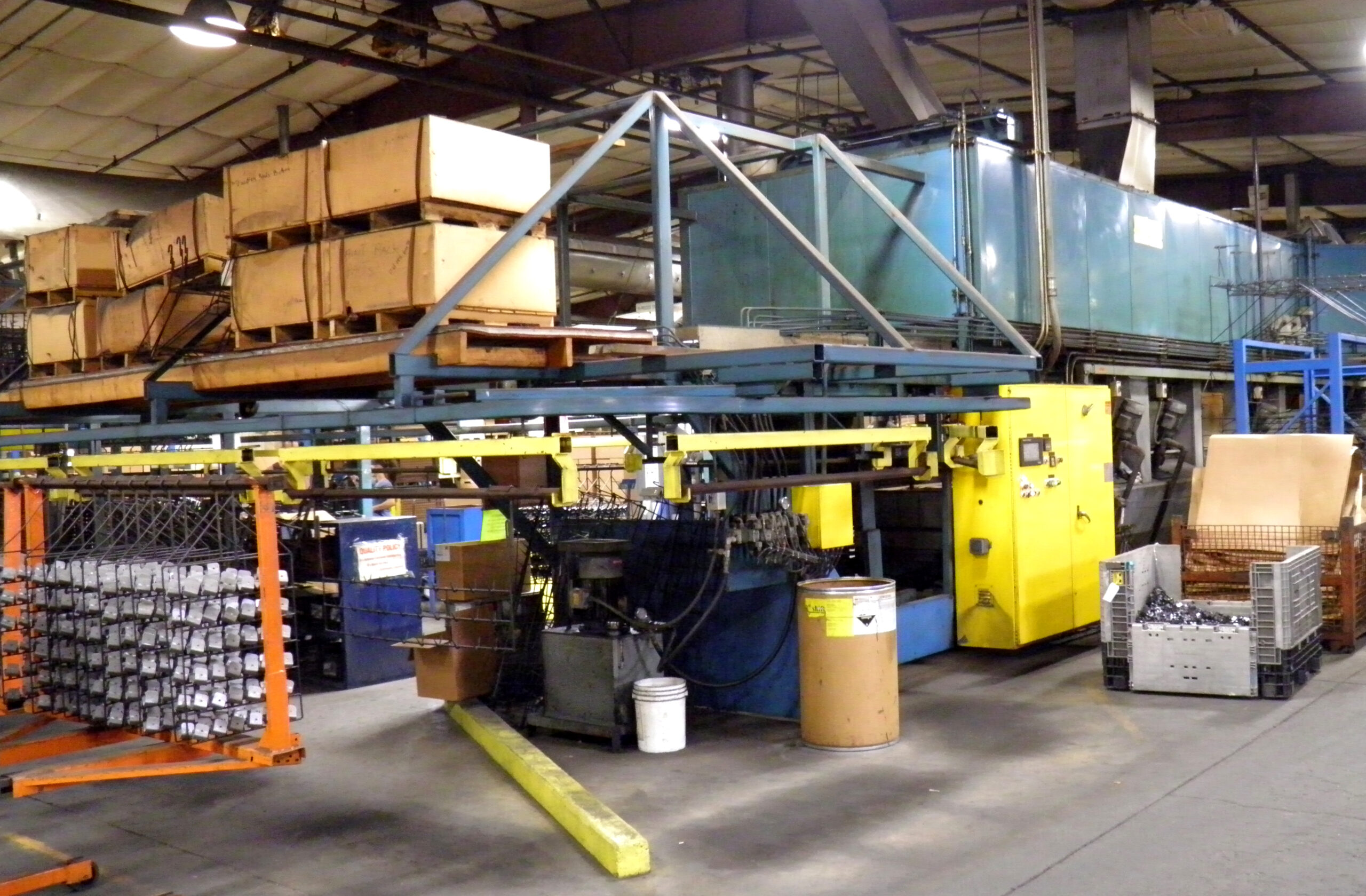 Electro-coating (E-coating) is a paint finishing process that uses electrical current to attach wet paint to metal surfaces. This type of finishing typically involves immersing a metal part in a water-based emulsion paint solution before applying a voltage to the metal, causing the paint to condense onto the part.
E-coating is notably used for metal stamping not only because it creates a durable finish, but also because it acts as an anti-corrosion primer, which is crucial for metal parts being used in harsher operating conditions, such as those found under the hood or under the body of a car. For a metal stamping company, having state-of-the-art E-coating systems can be a huge asset because many top industries and brands have very specific regulations and expectations for their E-coated parts, both in process and quality of paint.
The first step in any e-coating project is to prep the metal. Typically, this involves pretreatment using cleaning solution and phosphate to prepare the surface of the metal. The exact chemicals used for cleaning are determined by the type of metal being prepped, and the industry standards for the part being worked on.
The pretreated metal pieces are then placed in an electrocoat bath composed of paint solids (resin and pigments) and deionized water, which acts as a carrier for the paint solids. During the actual E-coating process voltage is applied to the part, causing the paint solids to bind to the metal until the desired thickness is achieved. When exiting the bath, residual paint solids slide off the metal part. Post-rinse, the E-coated part is then baked for a short period of time to cure and solidify the paint coating.
This E-coating process doesn't only provide the aesthetic benefits of uniform gloss and pigment, but also provides a high level of durability and corrosion-resistance that makes it a classic finishing process for stamped metal parts.
Since 1949, Bopp Busch has worked to be a valued supplier partner. Offering support services, such as e-coating, is one way we accomplish this goal. In addition to our core stamping services, we also offer toolmaking, general assembly, and design services. To learn more about Bopp Busch and our capabilities, contact us today.