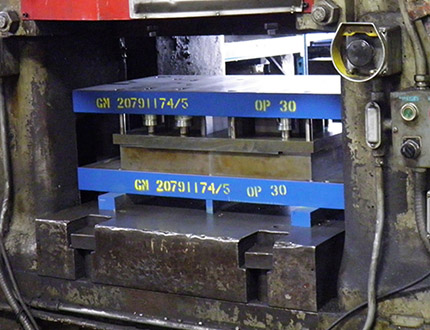 Every stamping project is unique, and every customer has specific requirements to make their project vision a reality. However, every successful stamping project involves active collaboration between the customer and manufacturer to make sure that expectations are met and high-quality products are delivered. For this reason, the first step in every project should be a mutual conversation between client and manufacturer about the project specifications in order to determine how to best manufacture the needed part(s) and make sure that the customer's expectations and requirements can be successfully met by the stamping manufacturer.
After this initial evaluation of the project and needed parts, manufacturing engineers can begin planning out the stamping process itself, determining which tools and pieces of equipment will be needed and what costs might be associated with their completion. At this step in the process, the manufacturer and client should begin discussing design suggestions and cost-effective measures to make sure that estimated rates are suitable to both parties.
Following engineering review and clarification of parts/costs associated with a customer's project, designs can become finalized as materials are chosen and dimensions are calculated. At this step, manufacturers should verify each project specification with the customer, establish a timeline for completion, and deliver a final quote and project summary to the client.
These numerous stages of review and intensive pre-planning allow the rest of the stamping process to progress smoothly and successfully. By establishing expectations, specifications, and rates before production even begins, customers are guaranteed a full overview of what is needed for the project, how long it will take, and a comprehensive breakdown of how much the project will cost.
The next phase involves the stamping process itself. Approved designs are converted to prototypes fitting the customer's desired dimensions and specifications. Quality control practices, such as the IATF 16949 Quality System utilized at Bopp Busch Manufacturing, should be utilized to oversee, and monitor production, and inspection of the parts is completed prior to presenting final deliverables to the client.
After final inspections, products are packaged and shipped to the client per the pre-discussed timeline and are ready for assembly. The key to a successful stamping project is to ensure that each step of the process is carefully planned and monitored for quality assurance and choosing the right stamping supplier ensures that this process is smooth, timely, and efficient.
Since 1949, Bopp Busch has worked to be the best supplier partner to our customers, utilizing many of these processes to improve quality and service. We have also supplemented our core stamping services with e-coating, toolmaking, general assembly, and design services. To learn more about Bopp Busch and our capabilities, contact us today.